1/14/11
Bob came over yesterday afternoon unexpectedly, and we talked for a few minutes about how to re-wire the organ. We have decided to use 70-wire Telco connectors at the console, and punch it all down from the pipes to the other half of the wiring. We'll shorten all the wires to easily half the length. There will be a LOT of connections (as in several thousand), most being done by punch-down and not soldering.
Bob is going to do an assessment at home, probably on the clock, and make up a materials list.
2/14/11
A month later and Bob has essentially done zip. He claims as of last week to have done something (what I don't know). He has not been here, has produced no results, has not set me on any path toward completion, laid out any wiring codes, nor brought me any connectors.
2/25/11
Despite his numerous promises to come, Bob has not shown, has not done anything, and while asserting he has got the connectors, has again failed to show when promising to do so.
3/10/11
Tomorrow will find yet another promise to be fulfilled by O-Bob. He claims to be coming with a box of stuff at 9 AM.
OK then.
3/21/11
Nah, nah, nah. Or as comedian Ralphie May puts it: Nay, nay.
Bob has three times since 3/10/11 promised to come, including today. He lays it off to being sick.
Once he shows with a punch-down tool and some connectors, I can get to work and get something done.
I'm going to call Gene Bojarski right now and see if he has any inclination or interest to do any of this. Barring that interest, I'll ask him about the tool and some techniques.
3/25/11
Bob came by last night, left some punch-down T66 blocks, and we finally got agreed on the protocol from here: do the winding, THEN start the wiring. So Tuesday AM should see him here doing just that. I will likely do most of the wiring, with some early guidance from him.
The wiring question now is how far to take the new wiring INTO the organ. We could go ALL the way to the valves. I am not crazy about this, but it will be about the same number of connections in any event. We just already have that done to 100-pin boxes (6 of them), so we are partly undoing stuff if we go deep.
I'll let it brew for a while.
Bob likes the layout of stuff now, likes the room I made for everything above and below, and appears interested now.
3/31/11
Bob returned yesterday, and it appeared he has ADD by the way he kept re-inventing what did what and how this and that regulator worked, etc. I told him point blank that this is what I was seeing, and I just set down how we would approach this. I said let's just physically lay out the regulators RIGHT now and let that determine what else happens with wiring, etc. Get the winding set, and move from there. He returned this evening to deliver my walker (for post knee surgery mobility) from a lady in Yorba Linda. He was doing a job in Pomona and kindly agreed to do the delivery for $20. That was nice, and VERY helpful. He will return, he says, on Saturday morning.
Perhaps we will actually get something done here.
4/4/11
Bob returned for a brief stint on checking the wind pressure in the reservoirs. He is ordering 4" ducting from Organ Supply. We checked Grainger for some local stuff, but it's all too much money for the stuff.
Bob claims he will return later this week, around Friday, when the duct arrives. I'd say Saturday is more likely.
4/15/11
Nay, nay to requote Ralphie May, comedian.
Bob ordered ducting, it did not ship immediately, and has come in today. So what time is he coming over today?
Nay, nay.
Monday.
Oiy vey.
4/30/11
So Bob is HERE today. We have pulled out several ranks to get to the valves on the Bourdons against the mirror. The low D# has a bad valve. The construction and layout which I did some months back have proved very serviceable as we have had to move the principal, celeste, and both faggott ranks out to get to the Bourdons.
So we're into the winding. Hooray!
We'll pull the underfloor cabling out, although probably not today. But one never knows in these things.
So here is the state of controlled disarray for this moment: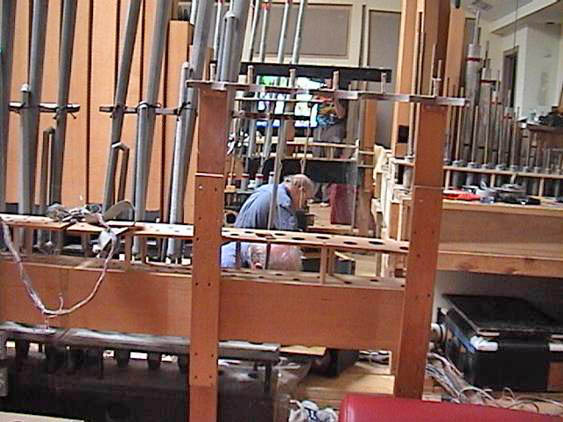 5/3/11
The truth of a system is irrefutable: I paid Bob $340 last night for hours in excess of our two-day trade for work. Of course he now fails to show this morning.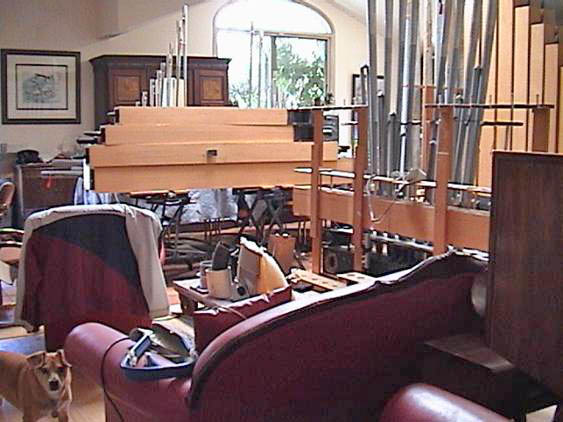 OMG!
The ongoing MESS and disruption is unkind, to say the least. The VERY least. Come on man!! Just respect my home and condition and money! Expedite the repair and get on with it!
This is what kills me: I pay money for people NOT to show.
5/9/11
I cleaned up the front room as possible. Bob has not shown for 4 days, claiming mother-in-law health issues in Orange County. He was to have ordered valve faces from a manufacturer, not Wicks, this morning. He now claims no other facings can work. He also says Wicks is open only 3 or 4 days a week now and did not get an answer to his phone call of today.
Bob is coming tomorrow morning to do what he can.
5/12/11
Bob put in some time, and will come tomorrow. I received valve facings from Wick's by Fedex today.
I negotiated a reduced hourly rate with Bob, and hopefully this will put us both in line to get this done.
6/14/11
Bob has put some fitful time in here, perhaps 24 hours total since the above entry. I did a 3-day trade with him for some help with three guys, my truck, fuel, and lunch assisting him in hauling a console down from Oxnard. He did clean up the place in time for the birthday party and installed all the pipes in place, but has had cascading emergencies before and after with his daughter, car, jobs, etc.
The organ is mostly winded now, and it is now about checking valves, and THEN doing wiring.
6/19/11
Bob has not returned since the day of the party, 6/11. Therefore no work has been accomplished.
6/29/11
Bob finally returned yesterday, and did about 4 hours of valve work on the front façade pipes. He left around noon, and did not return. I chased him down this morning, and he is catering some luncheon for his wife, and will return later today. He says he is wiring a loom for the organ.
This is not like kicking a can down the street. More like pushing a dead car.
7/4/11
No Bob since the above. Just maddening and frustrating. Once he gets the valves done, I can likely complete the electrical myself. It would be good for him to remain involved, but I am just looking at more worst-case scenario thinking on this.
More maddening is the CITI boondoggle, threatening the very existence of this home.
But specific to the instrument, I'm guessing Bob will need another 4 or 5 days here before I can get to the wiring.
7/7/11
I reached Bob the other day, and he claimed to have been in attorney bondage with his wife's affairs. He was to have called back and come over.
No show.
I left another message a moment ago.