10/9/10
In a heart-killing turn of events, not only has Organ Bob not continued, I am now going to sell the organ. There are 4 or 5 deeply personal lifetime mementos which I have spent literally decades trying to complete: the organ, Impala, Steinway piano, dad's music to CD, etc.
I am on the brink of losing the house to foreclosure based on CITI kicking me off the loan renegotiation cliff after 18 months, and I must now scramble to liquidate EVERYTHING I can to get money to cover contingencies at this point.
I have only one lodger out of four now, with another supposedly coming in about 3 weeks (second of November). I am living literally out of the meager cash in my pocket, with a $1200 DWP bill due. I put the organ on Craig's List for $11,000, and got two inquiries. One local, not viable as it appears too big for him. The other, in Rochester NY, appears more interested. I burned some CD's of the organ recording, and sent him one. So the two musical prizes in my life, the organ and piano, are going off the life raft.
I checked with Franco on the piano, and he has done ZERO since I gave him the last $7500, for a total of $15,000. He wanted to wait to finish it until he knew I was ready to pay up the last $7,000 for his labor. So this KILLS any quick money there, and I need it QUICKLY. As for the organ, I just pray someone steps up ASAP.
11/12/10
The piano sold for a walk-away price of $11,000.
So much for that.
Organ Bob needs some house work done, and John and I will go there tomorrow. Bob will pay John's time in cash (to me), and my time will be a trade with Bob for more organ work.
11/25/10
The pictures below show first the organ COMPLETELY disassembled and scattered throughout the living room.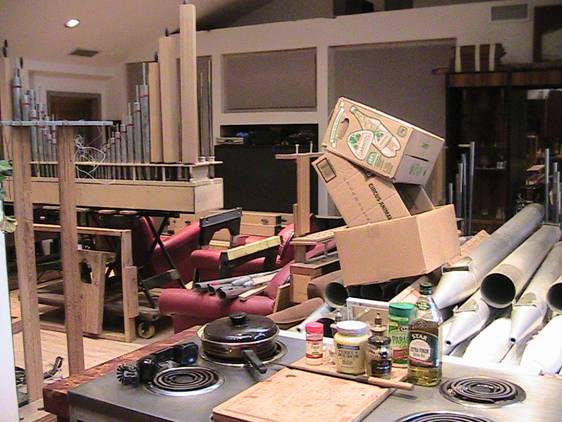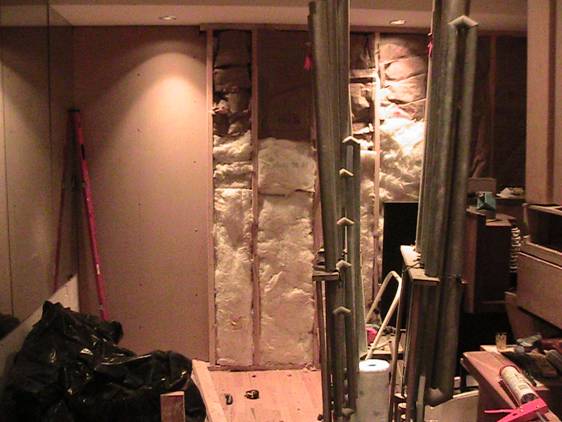 The final picture shows the room last night, the seventh day of work in there.
Back to perfect.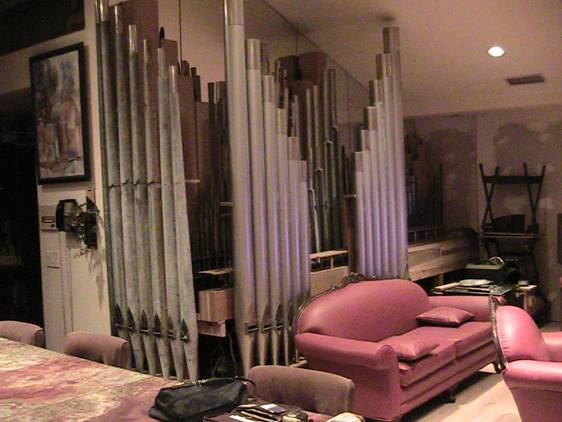 It is NOT complete or ready to play, as Bob still has lots of work to do, should he ever return. Right now he owes me two days of trade work.
I installed the 16' Faggott low 10 notes in the middle of the left organ, third out from the back, and bumped the remainder of the organ forward about 9". JJ and I built a little platform extension at 3.5" high by 90-1/4" long to accommodate the bump out. We made some additional supports, tied some stuff together. Relocated the hold strip on the mirror behind the Bourdons, and now it's back to sorting wiring, fixing valves, etc.
Organ Bob claims he'll come over Monday 11/29/10.
He suggests we might change the 100-pin ends on the cables to 25-pair phone plugs. I'm OK with that.
12/11/10
Bob has not shown yet. He claims repeatedly to be ready to come then cites emergencies, etc. that made him unable to show.
This is an old line.
I will eventually just get to the wiring myself. As for the valves, well that will have to wait until the wiring is done, and will require a step up from me and my interface with Wicks.
12/18/10
I called Bob yet again, and he finally got down here for about 15 minutes. He did nothing, but we talked again about changing the plugs out, perhaps shortening all the wiring, and running it above ground along the south wall behind a little chase/baseboard. This may be the hot ticket in the long run, as the rats wreak havoc with the cabling in the underfloor space.
I was doing just this kind of soldering and wiring 17 years ago when I first met Millie. If this is what it takes, I'm ready.
Bob claims he'll have some time available for me net week.
Right.
1/3/11
Talked with BP today, and he says he'll be here TOMORROW.
You will be the second to know….
1/7/11
NO SHOW, per usual. Does he mean well?
Sure.
Does that change the lack of progress?
No.
I showed up when I said and did what we said we'd do, promptly.
The lack of follow-through sure takes the fun out of this.
I'll just get to cutting and shortening next week, and do whatever I must to move things along.
The body of the organ is in place. I need to make a riser/dolly for the console. Although, if I'm not going underfloor with the wiring, no such plinth is now needed. I can just slide the console on felt runners. So that eliminates that bit of work.
I'll call Bob Monday and tell him I'm about to start cutting wires and if he wants a code, to get over here and determine it.
I will also call Gene Bojarski and see if I might get him over for dinner and some wiring pointers.
1/11/11
I need to put that call into Gene tomorrow, on is cell. Bob is supposed to show here on Thursday. Perhaps some of what needs doing will allow for Kelly to work it. That would be good.
I played some organ stuff for George and Kathy Lewicki, and they were enthralled. I was moved to tears on some stuff. I GOTTA get this thing done.