1958 Impala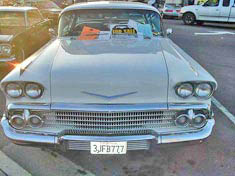 For the long story see Impala Diary

The Short Story
When I was 14, in 1958, my mom's car was nearly identical to this car. That car was the same color, same interior, but it had a 283 with 2-barrel, while this one has an 84 Corvette tuned-port 350 and 700-R4 trans. I used to sneak that car out at 3 AM in Hollywood, right below the HOLLYWOOD sign, and drive to Toluca Lake to visit a friend right down the street from Bob's Big Boy. It was harmless (although obviously illegal) fun, and thank God we did not damage the car. My parents got wise and started putting sand on the driveway, hiding the keys, etc. Finally my mom confronted me one afternoon and just said, "tell me about the car and your night rides…". No yelling, no punishment, no screaming, nothing…… just acceptance and support and some curiosity. I have ALWAYS had a very soft spot in my heart for this car. These cars are bringing HUGE sums right now as they slip away from availability and are sought by foreign buyers.
I feel fortunate to have found this good a car this close to home.
This Friday night I will have the first opportunity to LEGALLY drive my heart-throb 58 Impala to Bob's Big Boy!
This one has a slightly different power train, one I would have killed for in 1958. It is not blinding fast, but is VERY torquey, and just cruises beautifully. The interior and exterior are stock, restored, and correct. The entire car and undercarriage have been cleaned, painted, and the 2 front floor pans replaced. The trunk under the mat is rust-free and black. The chrome and all trim are nearly perfect, save one small a rusted area on the front bumper, which I will cure. This car as received was not mechanically perfect. The brakes had been twice worked on by different people in the recent past, and were not right. John and I both noticed a VERY tough pedal. But not having driven many stock 58's, we had no recent comparisons. I bought the car, and sure enough, the front brakes hung up about 30 miles from El Cajon. I pulled off the freeway and while a couple looked lovingly at the car, they were concerned about the smoke. I could only muster laughingly, "Hey, it's an antique….." as I drove off in a cloud of smoke. I was worried there might be some electrical problem, as the smell was odd. It turns out the two front wheel cylinders were leaking fluid, and were so hot they were smoking. John and I could not move the car, so I called AAA for my once-a-year 200-mile tow. By the time the AAA flatbed arrived, the car would push. But I was not about to take ANY chances with the new darling, and it finished the trip in elegance atop the flatbed. It was amusing to view it that way, and only fortified my pleasure at having gotten it.
I immediately called the seller, who graciously said just send her the bill on the brake repair. I could have taken it back to El Cajon, as the second shop which worked on the brakes was next door to where I bought it, but I felt it would cost more time and trouble than just getting it home. In a wry twist, I had put it up on that shop's rack to inspect it only an hour before!
There are some engine and trans fluid leaks, and a small drip at the rear end.
The car has quite a bit of documentation, a nearly complete uninstalled AC system, a COUPLE of spare tires and rims, and a couple of nice trophies.
So the first items will be curing all fluid leaks, addressing the power steering (a little noisy at start-up), and replacing the tires with fresher-looking rubber. But make no mistake, the car is in overall beautiful condition, and a THOROUGH delight to see.

For More Information see Impala Diary