Dodge Hemi Diary 1 - 10/3/08 to 9/9/09 Final Hemi Diary
10/3/08

It was a great couple of weeks wherein I sold the Funnycar and then the Graham. The money was gone in minutes on the Graham, while it to some extent remains from the funnycar, if in piles, paper-clipped, with notes as to what it pays. For all reality, I am now back to two grand in the bank.
But what remains paramount is to sell this Hemi, and get Jacki paid. None of the proceeds, to any meaningful extent, will go to me at sale as I owe her $38,000 at this point. But having it gone, her paid, and one more open spot in the driveway and the insurance roster would be great.
Jay Dykes came by this morning and gave me a surplus Mustang pusher fan which I mounted on the front of the radiator. He even provided me with the plastic push-through mounting kit.
I wired up hard to the battery, and given that there is a Molex connector as part of the fan, I just shortened the wires, soldered it back up, and unplug it as needed. I will plug it in before I leave for Bob's.
Here is how it looks: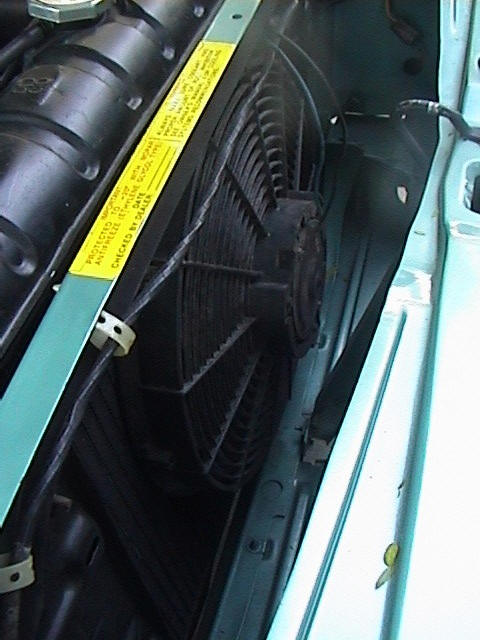 It frankly looks quite factory. We'll see if it makes any difference tonight (it did indeed).
Notwithstanding the blistering weather, it has cooled some today, and rain is predicted for tomorrow.
That will chill a lot of car shows on tap.

I have not yet mounted a puke tank on the Hemi, but should. I need to hunt around for the Tbird unit, or a spare.

10/16/08
I did some work on the driver's side armrest, which was loose. I fiberglassed and bondoed the unit for more strength, and took it over to Frankie at Creative for painting. It is reinstalled and done.

TOO GOOD TO BE TRUE-please add salt to your margarita glass for the follow story:

In a stunning development two days ago, I was called by a fellow named Ron Walker in Phoenix, AZ. He asked if I would be interested in a trade for the Hemi.

I noted my real interest is in getting cars off the property and creating money to pay my sister. Nevertheless, I asked what he had in mind. The short story is that we are trading STRAIGHT across this Sunday in Blythe, CA my Hemi for his 400-mile never-registered BRAND NEW 2008 Cadillac Escalade ESV (Suburban type body).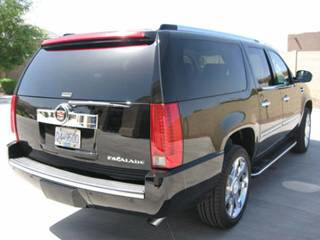 This vehicle has EVERYTHING imaginable on it. I do not think there is a luxury option not on this car. I have researched the titling procedure with AAA, and for $460 I can get it smogged and titled, with NO tax (as it is a trade with no cash changing hands). This will allow me to drive it on the streets, and not be having to store it in the driveway or garage.
It is 1" too tall at 74" at present to fit under my front lift in the garage, but that is easily corrected with some shims under the lift system, or by removing the luggage rack on the ESV. I'll just shim the lift.
I don't think having the car lowered 3-4 inches would be a bad thing, either.
I immediately asked my sister if she wanted the car for a little more than I owe her at present, at basically $20,000 off the new price, but she declined. I will get a pink ASAP, but regardless I will take it to Palm Springs for the November 22nd auction, for which I have already paid fees for two cars. So at this point it will be the Escalade and the Buick.
This is a scenario I could not have imagined.
It is good.
I will take some final pix on Sunday when Ron and I make the trade.

10/18/08
And, it was not a real deal. I think the guy was just baiting me. He claimed not be able to get my emails, then said he did not hear from me (despite leaving a message and sending 5 emails on Friday), then said he had a $60K cash buyer for the Escalade, then switched the deal to TWO lesser cars for the trade (on ebay both together would bring less than the Dodge asking price), then expressed interest in my Buick. We agreed on a price for the Buick and then he bailed on that.
Mind you, we had agreed Thursday that this was a DONE deal, and we would meet at noon in Blythe with the cars.
Now I can't even get his purported website to load to look at any cars.
So, indeed, TOO GOOD TO BE TRUE.
So, back to the McCormick Auction in late November. I just HATE these feelings, and my gut said this would happen. All I could do was ride it out.

10/21/08
John Jarnagin washed the Hemi yesterday (sorely needed). It is GORGEOUS. I will probably take it to Bob's on Friday. If I get some time, I will put a relay and switch on the electric fan. I will also do some inquiry with some Mopar folks as to the leaking rear main seal.
I put a brand new battery in the Hemi, and it seems to be holding nicely now. I will endeavor to hook up the solar chargers to the Buick (also brand new battery) and the Hemi for good measure.

And, I very much want to have a shootout with the two cars.

10/25/08
Roy and I hooked up the relay and switch for the fan, and it both works well, and looks very neatly done. I was majorly anal about how I did it. All good.
I took it to Bob's last night, to continuing rave reviews, and one family who expressed some interest.
I'm going to the Roam'n Relics show tomorrow in Moorpark with Randy (he's working the show for the club). I certainly hope this exposure will soon pay off in a sale (nope).
Otherwise, off to Palm Springs we will go in late November.
I learned a valuable lesson, and removed my "blog" and this diary from my website. As candid and informative as I have attempted to be, it bit me in the ass BIG time with the jerk and his Escalade trade. So no more public info on this process until it is sold.

10/29/08
The Relics Show was good, with nearly 500 cars! I had a PRIME spot.
Who knows, the exposure might one day pay off.
The next move is taking the driveshaft out and having its balance checked at Wenco tomorrow. I just feel it could be smoother around 3000 RPM on the freeway. It is actually great at 2500, and above 3500.
I'm also going to have a look at putting a diaper under the rear main, and tightening up the pan bolts just in case.
The new battery works great, and it starts on one tooth.

11/20/08
I had the driveshaft both straightened and balanced, and it rides better. Mike at Wenco was a jerk, though. I walked in with it, and said it felt wrong. He quickly disclaimed ever making it, pointing out two or three areas which were "clearly not our work." Of course it's his work. He finally said he'd correct anything on it for free if he made it. So when I came to pick it up, Jim hit me up for 440. I reminded him of my conversation with Mike two hours before, and Jim came back and "settled" for $20. COMPLETELY shitty attitude on their part. If Kenny Duttweiler did driveshafts, there would NEVER be this kind of thing happening.
The car is in Palm Springs, with the Buick. I will have them both detailed tomorrow by the local guy for $135 each, wiped down again Saturday morning, and watch them cross the block a little after noon. I have talked with Keith McCormack, and he appears unwilling to deal on the commission even if it goes for under the reserve. I spoke also with Rudy, his block man, who spoke similarly. So I may get no break if I let them go cheap. Just a little more to consider in the next two days, BEFORE I step up on the block with them.

12/13/08
The auction was filled with people, not money. Cheap crowd. I had two friends bid on the car, and I was ready to settle for a low offer, and the block manager said drive it out we'll talk later. There was NO talk later. I loaded the car up within the hour, and had quite a crowd at the trailer, one of whom was a fellow named Bill Morris.
Several days ago a friend of Dan Feldstein spoke with me about the Biscaynes, and on his visit here said he thought he had someone for the Hemi, and the Buick. He set a 10 AM Friday time-NO SHOW.
I called him and he said they'd be here at 3 PM-NO SHOW. He called and said he would come tomorrow Saturday around 10 am, and would put the other guy directly in touch with me-NO CALL.
However, Bill Morris called me from Canada about the Hemi. He said he is VERY interested, and we talked about some details. Morris sounds like the more realistic buyer, And I hope he is.
Meanwhile, the rebalanced driveshaft lasted about 10 miles and felt the same again.
I had Wenco do it AGAIN, this time I called Duttweiler an asked whom they use, and I took it directly to Coast Driveline in Oxnard, and did not even install it. The shaft was .025" out of round in two places, the weights were welded on the tube (a no-no, and the balance weight got reduced from 1.5 ounces to .4 ounce. Wenco had been trying to balance a banana shaft. Mark at Coast charged me ZERO. We talked about a new driveshaft and pumpkin yoke for $750. I'll not be doing that now, good an idea as it is.
We also discussed the KiloKub and he quoted $1300 for all the shafts and center support bearing. FINALLY, a REAL honest qualified ethical guy. FINALLY. I will test drive it tomorrow.

12/13/08
The BOYS did not show to look at the car, so no drive as yet. They failed yet another day, and are scheduled for the THIRD time to come tomorrow.

9/6/09
I'm surprised at no entries for so long. The car looks GORGEOUS, as I have continued to detail it, particularly underneath, several times. I LOVE the racks. It still has a little bit of a drip, perhaps the rear main. But the car shows no sign of any oil down or anything.
I had a WONDERFUL incident occur at the recent Fillmore Show. I took Gene Bojarski (a client and now friend) with me to the Fillmore Show in the Hemi. A fellow was taking pix of the car, holding his camera inside, etc, and looked up and saw me sitting at the back. He asked if it was OK to take the pix I said, heck yes. Sit in it if you want. He noted he was taking the pi for a friend who loves this car, but could not make it to the show. Under his breath, he mumbled, "He has cancer." I asked where he lived. IN Newbury Park he said. I noted that Randy, three cars away, lived there. I asked if his friend would like to see the car.
"Hell yes."
I gave him my card and asked him to call me around 6 PM to give me directions. After going to Jacki's for a BBQ, I went the long way home, and pulled up in front of his buddy's house. His friend, Rob, was wheeled out in his wheelchair with SIX people. Rob looked lovingly at the car as it idled its snarly, wonderful growl. I opened the hood, asked if he knew what the Hemi was, and he said, "Oh yes." I talked to him about the history of the car and the build, Landy, etc., and then said, so you want to take a ride?
"What?"
I reiterated, and he responded basically "Hell yes."
His friends piled him in, and as I pulled out of the driveway I asked his friends two things: Would it be OK to make noise and a lot of smoke.
"Hell yes."
I normally NEVER hammer the car, but I put it up on the converter, smoked it through first and second and into third. At the end of the street Rob looked at me with a HUGE grin and said, "That is the FASTEST car I have EVER ridden in in my WHOLE life."
Cost: pennies.
Reward: Priceless.
We drove around and when we pulled back in his friends applauded and thanked me.
I told them they had it all wrong as I was the lucky guy. I got two thank-you's from his wife and friend, and reiterated I was the one who got the good end of the deal. It has inspired me to use the KiloKub for the very same purpose once completed.
Meanwhile it is WAY too hot (constant 100+ temps) to be driving it around, so it sits.
A new Bob's Big Boy is opening in Northridge on September 14th. I'll see how the temps are and probably take it there for the grand opening.

9/8/09
In a stunning turn of events, the HEMI was stolen off the street today! I had moved it and the Buick out the last two days for garage cleaning, moving cars around, reorganizing, etc. Sometime between 9:30 AM and 2:06 PM the car just vanished, It was locked, parked properly, and was not towed (according to the police).
I can only be thankful that its last act was the beautiful treat as described above.

9/16/09
There has been no sign of the car in 8 days, so I must settle in and just be thankful for the fun I had, and the smiles it brought to all who saw and experienced it.
Long live the King!