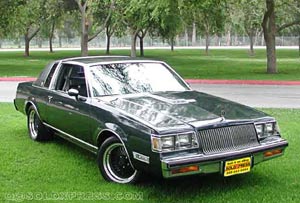 THE CAR: This is a very rare and VERY quick Regal Limited for only $20,000..
This Regal Limited is the second rarest 1987 V-6 Turbo Buick after the GNX (only 1,035 were produced in 1987). It is estimated about 350 still exist, and to my knowledge none are in this condition, nor have the performance enhancements that this one does.
This Turbo Regal has run in the low 11's at 120+ mph (and is capable of getting into the tens!), yet, this car gets about 15 MPG in City driving, is totally mannered at 17# of boost on 91-octane gas, and runs easily on 100+ degree Valley days with the AC on.
New paint April 2001 (factory dark blue). Leather seats, newer carpet, new floor mats, stock digital dash with some tricks, and 5 after market gauges.
This is a CALIFORNIA car, (95% garaged or in covered parking). A weekend car only since 1996
PERFORMANCE EQUIPMENT:
Spearco inter-cooler, Precision turbo, Hooker exhaust system, dual waste gates, adjustable boost, 2800 stall ACT converter, AND a spare 9" Art Carr torque converter, upgraded & rebuilt transmission, 3.73 gears, upgraded internal fuel pump, secondary in-line fuel pump, adjustable fuel pressure regulator, fuel pressure gauge, 160º thermostat, transmission cooler, oil pressure boost plate, under-drive pulley, blue stripe injectors, Suspension Techniques coils & sway bar and right rear air bag, Bilstein shocks, spare 15" rims with slicks, Jet-coated headers, polished aluminum valve covers, plenum spacer, heated O2 sensor, throttle enhancer calibrator, anti-hop bars, throttle position sensor, engine tie-down, driveshaft loop, GNX style 16" rims, 6-point chromoly roll cage with removable, swing-away side bars (rear seat requires flexible person as presently configured), and Simpson harnesses (tucked under seat for daily driving while using stock belt system). The trunk-mounted Nitrous system is included, as are the in-place switches, etc. The solenoids and plumbing have been removed, but are included.
THE MOTOR
This car was engineered by Kenne Bell, and is VERY deep in its prep and setup. It has a reground & hardened crank, bored .030 over, honed with torque plate, block decked and aligned-honed, hot tanked, TRW forged pistons, chromoly piston rings, roller rockers, chromoly push rods, improved camshaft, high rev lifters, stainless steel valves, double roller timing chain, main bearing stud kit, heavy duty rod bolts, ARP head bolts, rocker stud kit, heavy-duty valve springs, and a certified flywheel. It dynoed at 379 rear wheel HP, and 531# of torque on 91 octane!
OTHER GOODIES and IMPROVEMENTS
When I got the car about 6 years ago it appeared close to flawless. I improved it since then. It has the stock Boston Acoustics speaker components and original head. There is a 10-disc Sony CD changer in the trunk, and remote control module and controller up front. The MAS sensor was replaced with an adjustable Granatelli unit. The Flowmaster mufflers were wonderfully nasty-sounding (and are included), but were just too loud for daily driving, so 4 trial and error combos were tried, finally settling on one stock muffler and one Walker Turbo on the dual exhaust. The catalytic converter, while fine, was replaced with a VERY large truck unit. The 3-core radiator, while also fine, was replaced with a 4-core unit. The windshield was replaced as it had minor pitting. The pesky electric antenna has been replaced with a brand new GM unit, and now the California Car Cover can be used easily. So the car now is very close to perfect. And oh my, SO fast!
This is a monster sleeper, yet has an aggressive stance as the pictures indicate. It is rattle-free and handles like a slot car. To a person, everyone who has been in this car says it is the finest Turbo Buick they've ever experienced. This is a deeply engineered, solid, reliable, and very high performance car. I LOVE this car, but I am out of room, and I can't bear putting this car outside. I've enjoyed it immensely for 6 years, and I would love to hang on to this as its value is undoubtedly going through the roof soon, but it must go.